Fortifying your castle: How high security locks stifle property-crime
Updated: November 15, 2022
Houston is growing
You may realize it on your morning commute, traffic isn't what it was 5 years ago. Houston has been growing at a consistent 2% since 2010 and in 2019 was considered the 39th fastest growth rate in the US which is pretty staggering taking into consideration 6.8 million people already live here. Rising populations unfortunately do more than clog up freeways and surface streets. It has been shown in cities with rising population rates that typically the crime rate increases on a similar curve. Houston has settled down from its notoriously high crime rates in the 1980s and 1990s following the "Boomtown" era, but since 2015, during the peak of Houston's recent population influx, the crime rate has been on a steady rise. Your chances of becoming the victim of a property crime are 1 in 24, at a rate of 41.25 property crimes per 1000 residents. Typically this happens because cities do not have the enforcement infrastructure to keep up with the population growth. Houston only has about 1.9 officers per 1000 residents, factoring in Mayor Turner's promise to add 500 new officers to the force. Taking things into perspective, 2.5 officers per 1000 residents is the nation's average, which is not a good look for a city that is in the 4th percentile for crime in the US. Yes, you read that right, 96% of the United States is safer to live in than Houston, Tx. While Texas is one of the safest states in the Union, the flip side of that coin is that Houston is double the national average in nearly all statistical categories. That would be amazing if we were talking about public education standards or pro sports statistics, not crime.
Taking proactive action is the first step in keeping yourself from being a victim of property crime or assault. While 43% of Houstonians keep a firearm in their home, that is something I would consider as a last line of defense. Fortifying the entrances to your home is something you can do to help thwart a home invasion in the first place and save yourself and your family from a potentially traumatic experience. The easiest way to shore up your entrances with standard key locking system is to upgrade the hardware itself. Your heavy duty hardwood or metal door is only as strong as the lock within it. Upgrading to what is considered high security will provide more security with its superior structural reinforcement, high quality metal body and mechanism, as well as their inability to be picked or bumped open like a standard lock can, which, in my opinion, is a high security lock's most significant feature.
"Just googling 'kwikset key' you can find a bump key for less than $5 within the first 5 results."

Lock bumping is a low-skill maneuver
It may seem like lock picking is a trade skill exclusive to locksmiths and hobbyists. This is fairly true on the surface, but there is a less skilled side of lock picking: lock bumping. You may not have ever heard of it but it is a common practice for a locksmith to open a lock as an alternative to lock picking. It consists of utilizing a "bump key" to quickly unlock a lock in a similar fashion to lock picks, albeit much more simple. While lock picking is an artful skill, lock bumping is not. Alternatively, lock picking is a tedious task that usually requires multiple tools while lock bumping is a very quick procedure with only one tool needed. The practice started as a work-around for the novice locksmith who may waste a lot of time trying to pick a lock that could easily be bumped but, due to its ease of accessibility, the skill of lock bumping has permeated itself into criminal culture. It really is something learned in burglary 101. You may be asking what it means to bump a lock. Bumping a lock is a form of lock manipulation that uses a jaggedly cut key lightly "bumped" into the keyway causing the jagged cuts to briefly push the pins above the sheer line in the lock allowing the user to turn the key and unlock the lock. Just like lock picking, lock bumping leaves virtually zero evidence of break in because there was no forced entry. Bumping a lock does not damage anything and even to a trained eye it is almost impossible to tell if a lock has been bumped open before.
Bumping a lock does not damage anything and even to a trained eye it is almost impossible to tell if a lock has been bumped open before.
In my opinion the worst part is that in a residential setting, there are two commonly, almost exclusively, used keyways; Schlage and Kwikset. Seemingly unrelated brands like Baldwin or "smart lock" brands like Samsung and Ring will utilize these 2 keyways purely out of convenience, as these two keyways are largely seen as industry standard. So by carrying just 2 bump keys, someone can break into the vast majority of homes with zero signs of forced entry. This is unbelievably frightening because it is an extremely easy skill to learn. Video tutorials are all over YouTube and it only takes about a half hour or so of practice to become somewhat proficient. No reputable locksmith or key shop would ever sell a bump key to the general public, but unfortunately they are readily available all over the internet and do not cost much more than a regular key blank does. Now while this has always been a "trick-of-the-trade" easy alternative to lock-picking, we now live in the internet era and tools as well as tutorials are available to everybody. Just googling "kwikset key" you can find a bump key for less than $5 within the first 5 results. Something else to consider about this is that even if you have a home alarm system and it goes off when there is a burglary, the responding officer is likely to not investigate any further than placing a sticker on your door if there are zero signs of forced entry, as the majority of home alarm alerts are accidentally triggered anyway. Insurance companies will treat it the same way. Without signs of forced entry, a home insurance company is not liable to cover your assets. This places many people in terrible positions all because their burglar was smart enough to use YouTube. Maybe you see this as an insane theoretical but it is a real threat when it comes to break-ins. Even so, being pick and bump proof is just one of the great features that high security locks have in comparison to standard security hardware and its strength and structural integrity are maybe just as important if not more so because it helps prevent forced entry.
Shop smart when buying locks
The quality of high security far exceeds anything you could find at a general hardware or home improvement store. Schlage and Kwikset are both built with inferior grade metal and less structural integrity than even your most basic high security lock. A lock's strength and integrity are typically graded on a scale from 3 to 1 based on standard guidelines put into place by the American National Standards Institute (ANSI). On this scale grade 3 is considered the lowest quality being the worst while grade 1 is the highest quality. Most Schlage or Kwikset hardware are going to be either grade 2 or 3. Conversely, standard high security hardware typically exceeds grade 1 requirements for residential applications. What does this mean? Simply put it makes it substantially harder for a burglar to kick down your door or smashing off the lock with blunt force. They are designed to take abuse. Their hardened outer shell and internal structural make for a heavy duty piece of hardware that is not easily defeated.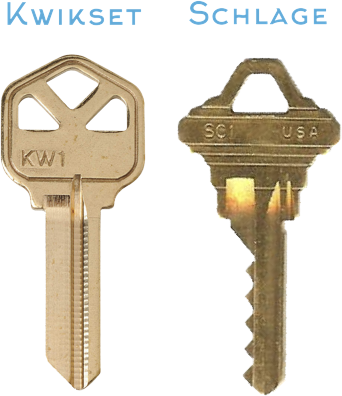 The last thing to understand about high security locks is that they operate on restricted keyways. Key restriction is a major facet of what makes high security locks so valuable and worthwhile. Simply put, only authorized users may acquire additional copies of keys. You can not get copies of high security keys at Home Depot, Lowe's, or Ace hardware but instead only from the locksmith shop who facilitated the installation of your high security hardware. When the locks are installed, your specific key cuts are kept in a file with the locksmith who provided the installation service. If a copy of the key is needed, it can only come from the original installer and they must be received in person with a photo ID that matches the file. Typically two or three people will be on a file to prevent issues making copies if the primary contact on the file is unavailable, but nobody outside of those two or three people will be able to obtain copies of your high security keys. This is perfect if you want to distribute keys to your extended family, children, or even your gardener without having any idea of how many keys are in circulation. The file system is also perfect for keeping track of who made copies of the keys, how many they bought, and when they bought them. If you're ever nervous about missing keys you can call your locksmith and verify how many keys have been distributed since the installation in order to verify you still have track of all of them.
Simply put, only authorized users may acquire additional copies of keys. You can not get copies of high security keys at Home Depot, Lowe's, or Ace hardware but instead only from the locksmith shop who facilitated the installation of your high security hardware.
Install anywhere you need extra security
I can already hear you thinking "I like the idea of high security hardware and key restriction, but I would want it on the front door of my business." Fret not. There is high security hardware for nearly every application, whether you want to put them around your home, on your business, or outside on your community's pool gate. In most instances, the most ideal hardware applicable will be Medeco or Mul-t-lock. Although the internal construction of the lock is similar, Medeco and Mul-t-lock use vastly different technologies to operate the key cylinder. Medeco uses a bi-axial cut key, meaning that the key's cuts are often at inverse angles and the lock itself requires proprietary angled pins to match with each unique key. Mul-t-lock is a side cut dimple key. The cuts of the key are on each side, rather than the top, which also makes Mul-t-lock keys reversible.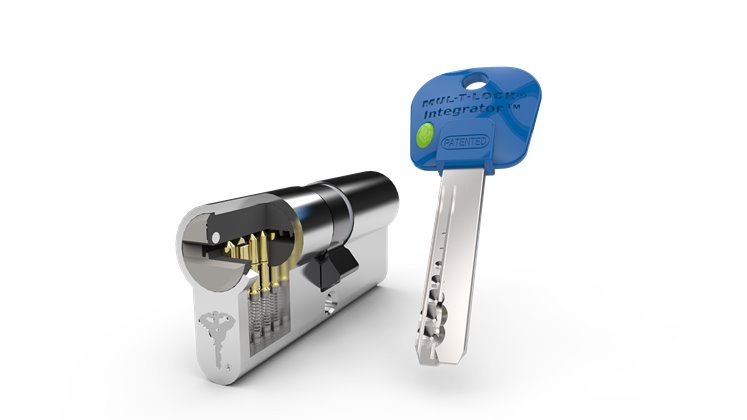 High security locks are an important commodity. These days with everything that is going on you truly can never be too safe. If you are interested in a quote on a high security hardware installation please feel free to call Houston Safe and Lock to book an appointment. We are authorized dealers of both Medeco and Mul-t-lock and have a long history of serving the Houston area for over 40 years.