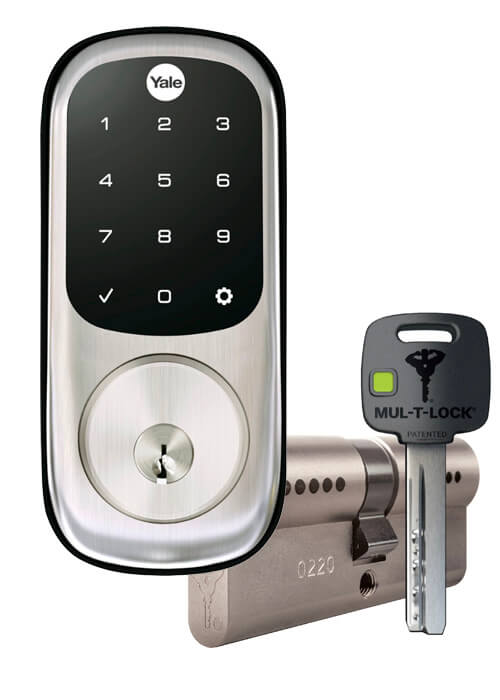 #1 installer of high-security locks in Houston
High-security & digital smart locks
Whether you want the convenience of a keyless digital smart lock or the enhanced protection of a bump-proof high-security lock, we have you covered with all the latest models from the top brands including Yale, Schlage, Kwikset, Lockly, Medeco, & Mul-T-Lock.
High

est se

curity locks available
Smart, fingerprint and touchpad locks
Fast, professional installation from our in-house team
Get smart or high-security locks for your home or office:
Get new locks for your home or office: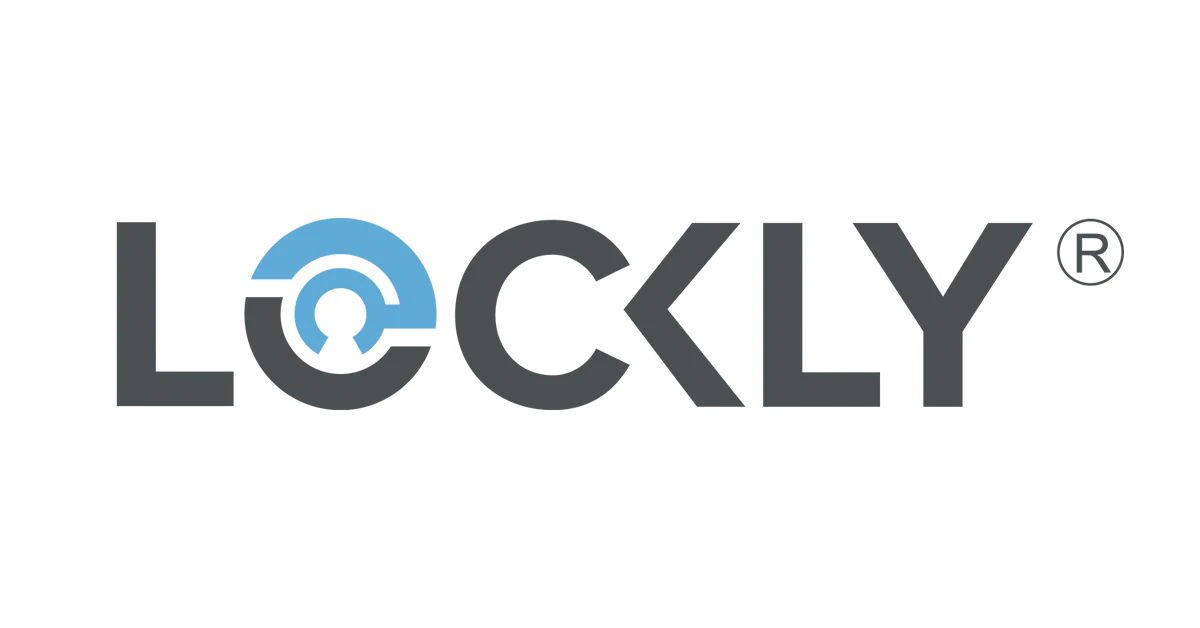 Why buy your locks at Houston Safe & Lock?
Superior inventory, working floor models, and state-certified locksmiths on hand to answer any question and help identify the perfect locks for you.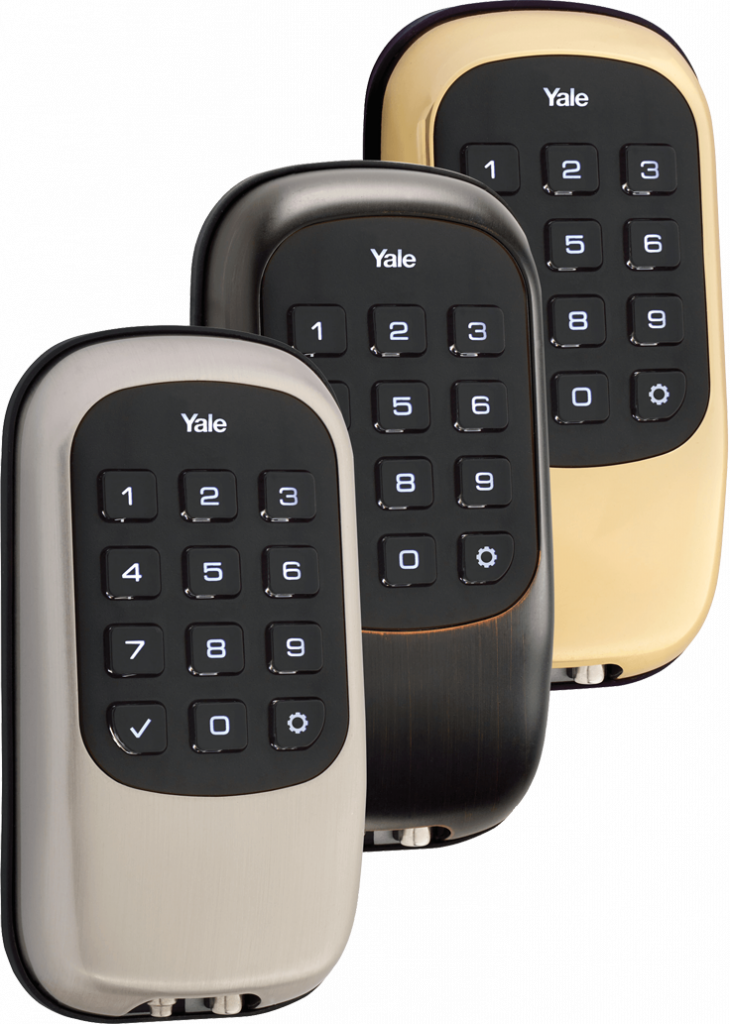 1. More brands & the latest models

For the best combination of digital, keyless convenience and safety – there's no better choice than smart locks from Yale, Lockly, Schlage, & Kwikset and we carry their full line of residential, commercial, and accessory products.

If you need unbeatable protection, choose our line of high-security locks from Medeco and Mul-T-Lock – They are the best brands of locks in the entire state of Texas.
2. You get to try before you buy

Unlike those big-box home improvement stores – none of which carry the inventory we do – you can actually experience your new locks before you buy them.

Curious about how high-security lock systems actually work?
Questions about master key systems?
Want to play with a working digital smart lock before you buy one?

Come check out our showroom where we have dozens of out-of-box floor models for you to experience before you buy.
3. Locks & safes are all we do

Whether you're looking to harden your business, ensure the safety of your family, or grant worry-free access to your friends – you'll probably have a few questions along the way.

What are the trade-offs when choosing between high-security or digital smart locks?
What happens if I get locked out?
4. Professional installation & full product support

Your new smart or high-security locks come with amazing features, but the only way to guarantee they work is by ensuring the locks are installed properly. Our in-house team of state-certified locksmiths can do that with our optional professional installation services:

Guaranteed to fit flush with your door
On-site guidance to walk you through all features
Help with passcode and master-key setup
Hassle-free product returns and exchanges

Whether you're buying a single smart lock for your home, or a fleet of high-security locks for your business park, our team can help make sure it's installed right the first time.
Medeco High-Security Locks
Are you looking for a high-security lock system? Medeco high-security locks have been designed to keep both your home and your business safe. Medeco locks come in a wide range of sizes and styles to match any residential or commercial security need. Medeco locks are known for being one of the strongest mechanical locks available today, and they're backed by strong patents and key control agreements.
Experience digital smart locks before your buy with our showroom demo models
Mul-T-Lock High-Security Locks
Do you want to protect your home or business with a high-security lock that is both pick and bump-resistant? Mul-T-Lock high-security locks are the ideal solution for keeping your building secure. Houston Safe & Lock is an authorized dealer and service center for Mul-T-Lock locks and deadbolts, selling affordable high-security locks for sale in Houston, TX.
Experience digital smart locks before your buy with our showroom demo models
Yale Digital Smart Locks
Make your home smarter with Yale digital smart locks, now available at Houston Safe & Lock. Yale's keyless lock system features Wi-Fi capability that can be managed through your smartphone, allowing you to control who has access to your home. The newest models of yale smart locks come with DoorSense technology, which automatically locks the door behind you as you leave, so you never have to worry about forgetting or losing your keys again.
Experience digital smart locks before your buy with our showroom demo models
Kwikset Digital Smart Locks
Kwikset strives to promote convenience, security, and safety for homeowners and families through an innovative approach to smart technology. Kwikset creates intelligent lock systems that use smartphone technology to allow users to monitor their home remotely, securely manage access codes, protect against theft and break-ins, and receive alerts when there is unauthorized entry into a home. You can also set up notifications for when doors are opened or closed (as well as when specific user codes are used).
Experience digital smart locks before your buy with our showroom demo models
Lockly Digital Smart Locks
Lockly redefines how you secure your home by using state-of-the-art technology to create a truly smarter lock. Built with the latest fingerprint scanning systems, infrared cameras, and the most advanced security algorithms available, Lockly creates the most secure locks on the market today. With the touch of a button, Lockly's biometric fingerprint scanner automatically opens your door for you. Lockly can also be programmed to unlock for other people who you've added to your app–it's like having a personal butler.
Experience digital smart locks before your buy with our showroom demo models
Schlage Digital Locks
Are you ready to upgrade your home with a smart lock? The Schlage Encode Plus Smart WiFi Deadbolt makes locking up simple – without worrying about keys. Lock and unlock your door with a touch of your fingertips using the Schlage Connect app, or remotely from anywhere you have an internet connection. The customizable settings offer versatile options so each family member can have their own access code, or set one master code that gives guests easy access to your home without disrupting your day-to-day routine.
Experience digital smart locks before your buy with our showroom demo models
– High-Security Locks –
Protect your home & business
We carry the most impenetrable line of locks and deadbolts in the world. Nothing will keep your home or business better protected than a professionally installed, high-security lock.
1
Pick proof
Lock picking kits can be ordered online without a background check and a picked lock doesn't leave any evidence.
2
Bump proof
Designed for locksmiths, "bump" keys are now publicly available. It can access any cylinder lock, the kind used in most homes.
3
Drill proof
Not discrete, but that won't matter if you're not home. Drilling is incredibly effective at breaking through standard locks.
4
Key controlled
Multiple access points on your property with separate keys can be a pain. We offer "master" key systems for complete control.
5
Duplication proof
99% of home keys can be duplicated at any home improvement store. Our high-security keys can only be duplicated by us.
6
Used by law enforcement
Feel safer knowing that the brands of locks we sell and install are the exact same ones used by Houston law enforcement
Every top brand under one roof
Houston Safe & Lock carries the latest high-security locks, deadbolts, and strike plates from Medeco, Mul-T-Lock and Tuff Strike.
Experience high-security locks before your buy with our showroom demo models
Get professional installation by certified locksmiths
High-security locks are only as good as the level they're installed. Our Texas State-certified locksmiths each have hundreds of hours of experience professionally installing and testing our lock offerings.
Our on-staff locksmiths are licensed, bonded and insured to provide you the best experience.
– Digital Smart Locks –
The best in safety & convenience
We carry the latest models of digital touchpad smart locks from Yale. Forget your keys for good + easily grant access to your home or business.
1
Keyless
Always seem to forget where you put your keys? Smart locks offer completely keyless entry & exit for your home or office.
2
Smart
Can't remember if you locked up before bed? Yale smart locks can be programmed to auto-lock whenever you want.
3
Access-controlled
Make the fake rock a thing of the past with digital key sharing. Send your guests one-time or reusable passcodes.
4
Secure
Easily change or reset your passcode, set up user-specific pins, and even remove guest access right from the app.
5
Resistant
Palm wakeup makes your touchpad fingerprint-resistant & each model is glare-resistant and glove-friendly.
6
Automatic
Automatically keeping you safe with auto-lock and temporarily disabling the touchpad after 3 failed attempts.
Touchpad digital smart locks
Leave your keys behind for good with the latest models of smart locks from Yale. Get the convenience of nighttime auto-lock and code sharing to make sure your wanted guests have access.
Experience digital smart locks before your buy with our showroom demo models
Available for residential homes, warehouses, retail or commercial offices
Our in-stock models of digital smart locks are guaranteed to fit all standard door frames.
Get an on-site quote for professionally installed digital smart locks for your business
Learn about the danger of "bump" keys
Today's the day! That big meeting – important appointment – time sensitive errand and *bang.* Without realizing what just happened, your keys are now locked inside your car. So what do you do? No need to panic. We'll help walk you through the best way to handle an auto-lock out. How Common are Auto Lock…
Getting locked out of your house or car can waste several hours of your day. Having a reliable locksmith that you can turn to will help you during this frustrating fiasco! Do you need a local locksmith to help you with a lockout? Keep reading to learn more about what you should look for in…
Continue Reading What to Look For When Hiring a Local Locksmith